What does A+ content entail, and how can I benefit from it?
Product descriptions on Amazon usually consist of long text passages which are not particularly interesting for potential customers.
In order to offer merchants the possibility to present their products even better and to convey content visually, Amazon has developed A+ Content.
Using A+ content helps you to describe your products more thoroughly and explain certain features in detail. The content includes among other things detailed descriptions, high quality images, videos and charts.
As you can see in the example below, the product description has been completely replaced by images with short explanatory texts.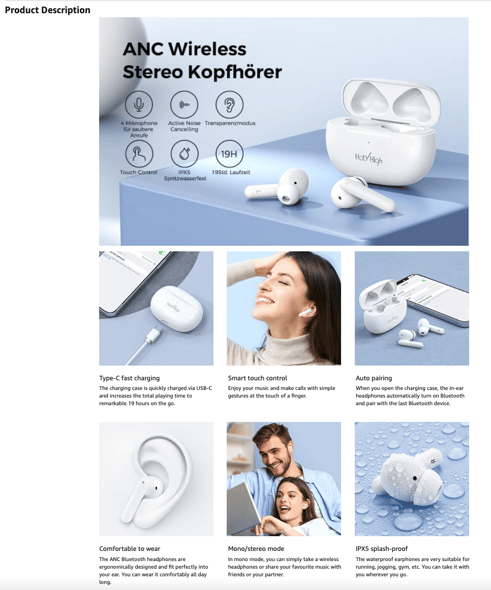 This makes the product description look much more appealing and the customer can experience the product more easily.
Differences for sellers and vendors
A+ Content is automatically available for Vendors, as well as participants in a sales program managed by Amazon, such as Amazon Exclusives. However, if you are a Seller, you must register your brand with Amazon to use the tool.
In addition, as a Seller, you should note that when using A+ Content, the "normal" textual product description on the product detail page is completely replaced with it. However, you can still store a product description in Seller Central and provide it with relevant keywords. This will be indexed by the Amazon algorithm and can have a positive effect on your ranking.
For Vendors, the normal product description on the page is supplemented with the A+ content.
Unlike a normal product description, A+ content is not indexed by Amazon. So for the algorithm which decides the order of the product on the search results page, A+ content does not play a direct role. Nevertheless, there is of course an indirect effect of A+Content on the algorithm, through the improvement of other relevant factors.
The images and texts of A+ content are indexed by Google and can therefore lead to a better ranking in the search results on Google.
What does A+ Content cost?
At the current time, Amazon A+ Standard Content does not cost anything. Although the mere use is free of charge, the creation of images and texts of course requires a time and therefore monetary effort, which you should take into consideration.
There is also an advanced version of A+ Content - Amazon Premium A+ Content. It offers more modules and customization options than the standard A+ Content Manager. The Premium version of A+ Content was launched in 2019 along with the Standard version. However, until recently, only Vendors were allowed to use Premium A+ Content. Now, sellers can also use the Premium version. In addition, when both versions were launched, Premium A+ 2019 was an invite-only program with a price tag of over $250,000. This meant that only the biggest and most successful brands had access to the tool. Now, in 2022, Amazon has opened up the program as part of a promotional period, making the features and benefits of Premium A+ more accessible than ever before.
For which of my products should I use A+ Content?
Since this tool is free, you can add it to all your products in theory. But of course, this depends on your capacities, because designing images as well as creating text can be very time-consuming.
It's best to start with products that meet one or more of these criteria:
The product is one of your best sellers
The product is very new/complex and therefore requires a detailed explanation
Many competitors already use A+ content for similar products
Your product is in the higher price segment and has a high margin
Amazon uses a product comparison table on your product page, which drives traffic away from the page
Note: Using A+ content will not make a product that is not performing well suddenly turn into a bestseller. The tool is more effective as an accelerator for products that are already performing well.

Advantages of A+ Content
A+ content can lead to
a higher conversion rate,
increased sales,
better ACoS and ROI,
better reviews, and
fewer returns
All benefits at a glace:
#1. make complex content easier to understand and answer common questions
You can use images to showcase features or functions of your product much better than with plain text. If your product is very complex and offers many features, using A+ content is optimal. If you use the premium version of A+ Content, you can also make a video for products that require special explanation. This makes it even easier to convey all the features of your product in an understandable way. To answer common questions you can - if you use the premium version - include a FAQ. You can also easily create your own "FAQ" by embedding questions and answers as text in the product description. This will help your customers make an informed purchase decision and prevent frequent returns - due to unrealistic expectations.
#2. help customers with their purchase decision
In general, it is always beneficial to provide a lot of information about your product. On the one hand, this speeds up the buying decision, as the customer can better decide if the product you offer is what they were looking for. On the other hand, you can set realistic expectations with your customers, which leads to fewer returns.
#3 Increase customer loyalty
Due to the lack of physical interaction between the customer and the product, it is often more difficult to build a bond with customers in e-commerce. The customer - in our example - does not have the opportunity to test for themselves how the headphones fit in the ear or what the sound quality is like. Compared to text passages, however, images and videos give customers the feeling that they can really test and experience the product.
#4. Stand out from competitors
Competition on Amazon is fierce and most markets are highly contested. To have any chance of succeeding, you need to find a way to stand out from competitors - using A+ content can help with this. In addition, the content feature can also help to distract visitors from the other ads on your product detail page, preventing them from being redirected to competitor pages.
Tip: A comparison table can be particularly useful in this context. Here, alternative products from your brand are compared in a table based on various features. If your product does not meet the customer's needs at 100%, there is a possibility that he will find and buy another product from you via this module.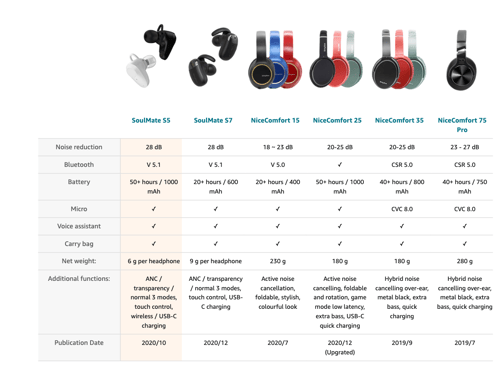 How do I create A+ Content?
1. Log in to Seller Central or Vendor Central.
2 A. As a Seller: go to the "Advertising" section and click on "A+ Content Manager". Your existing content will be listed here.
2 B. As a Vendor; Go to the "Marketing" section and click "A+ Content Manager" here.
3. Click on the "Create content for A+" button in the top right corner. Give the content a name so you can retrieve it. Then select the language you want the content to be written in.
You can also duplicate existing A+ Content and use it for a new product by customizing it.
4. A+ Content consists of a total of 17 types of "modules" that you can select and arrange as you wish. You can also use the same modules multiple times. Most modules consist of a combination of images and text.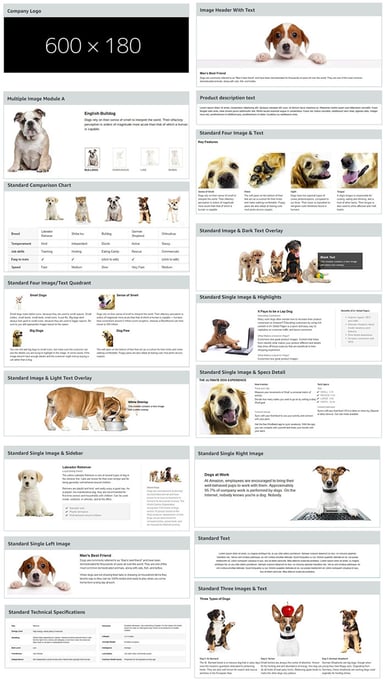 Once you've decided on modules, upload the images and content, and then click the preview option. Check the desktop version as well as the mobile version to make sure the page looks the way you want it to.

5. If you want to remove any of the modules afterwards, you can do so by clicking the X at the top right of the module. You can adjust the order of the modules by using the arrows.
6. When you are done creating the content, you can save it as a draft and include ASINs in the next step by clicking "Next: Apply ASINS". Here you can insert one or more ASINs.
After you have selected a product, you may need to select which product variants you want the A+ content to be used for. In order to apply the ASINs that you have selected, you need to click on "Apply content".

7. If you click on "Next: Review and submit", you will reach the last step. Here you will once again get the extended product description as a preview. Check everything again very thoroughly, also with regard to possible spelling mistakes. Then submit the content for review.

In the overview of your A+ content, you can see the current status of your content on the right.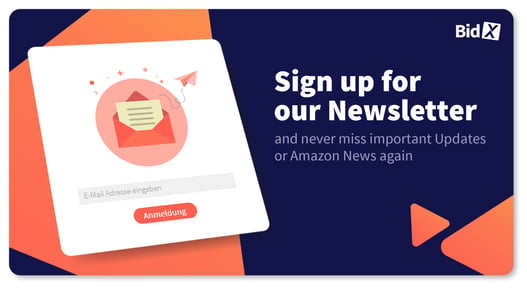 Tips for the optimal use of A+ Content

General tips
You should make sure that your images meet Amazon's size requirements. Amazon will reduce the size of images that are too large - however, they will not increase the size of images that are too small. Use the scale option in Content Creater to make sure your photos look good.
It is not necessary to fill all available space in a template. Amazon automatically reformats the module to fill empty spaces and create a coherent image.
Amazon automatically resizes images and text to suit mobile devices. The only thing you need to pay attention to is the text size you use on images. If it is already very small on desktop, it will probably not be readable on mobile devices.
Approval/rejection of your A+ content takes a maximum of 7 days, but in most cases it is much faster. If Amazon rejects your content, you will need to make adjustments and set up the content again. You can submit a maximum of 20 requests at a time.
If your A+ content is approved, you can use it for multiple ASINs at the same time. You can also use your existing A+ Content as a template for similar products. This is especially useful if the products are very similar and only differ in a few ways.


#1. Focus on the benefits of your product
In principle, whenever you promote your product, you should focus on what advantages it offers and what benefits the product has for potential customers. Using the additional images, you can present the benefits to customers at a glance.
#2. Tell a story
It can always be beneficial to create a story around your product or brand. If it is engaging and captivating, it can have a positive impact on the purchase decision.
For example, if your brand was established a long time ago or is committed to important issues, it can have a positive impact on customers. It also underscores the values your brand stands for. Customers who form an emotional connection to your brand or product are more likely to recommend your product to others or buy from you again.
#3. Design Tips
The most important thing in terms of the design of your A+ content is, of course, that your images and text are flawless and cohesive. In addition, the content should reflect your overall corporate design.
To get inspiration, it can also be helpful to look at the A+ content of other competitors or well-known brands. This will give you a feel for identifying which modules should be used for which type of content, and which modules make sense for which products.
Another important point: focus on the essentials.
Each module should focus on a specific point. There is no point in stringing together several modules that basically have the same message. It must be possible to identify a value added for customers, which in the best case is presented in a concise and simple manner. So when designing and arranging the modules, make sure that the customer can see a clear value in them.
Success measurement through A/B tests
As a vendor, you have no direct way to check how A+ content affects the sales of your products. As a seller, you should keep an eye on your conversion rate. If it improves after you publish the A+ content - without changing any other parameters - then you can conclude that your A+ content is having a positive impact on your ads.
If, on the other hand, your conversion rate drops, you can assume that your A+ content is not optimally adapted to your target audience or does not make a professional impression on customers. In this case, you should make adjustments to really benefit from A+ content.
You can also use the "Manage your Experiments" feature to do split testing of your A+ content. The feature allows you to find out what kind of images, texts or videos really appeal to your target audience.


How does "Manage your Experiments?" work?
Visitors to your product detail page are divided into two groups, each of them will be shown a different version of your A+ content. Amazon ensures that the same user is always shown the same version of your A+ content - regardless of when or on which device they log in. Based on the conversion rate, you can then decide which of the two variants is better accepted by your customers - even if, of course, it cannot be 100% guaranteed that the A+ content alone is responsible for the differences.
In order to use the feature, you need to select an ASIN for which content has already been deposited and which is highly frequented. You can see the approved ASINs in your A+ Manager.
You can basically test everything related to A+ Content, i.e. images, texts, videos, structures, etc. However, we recommend changing only one element at a time, otherwise it is difficult to figure out which change is crucial for the different results.
You can choose a time period between 4 and 10 weeks to test your content. You can adjust this time span at any time or cancel the entire test. However, for significant results, you should run the test for as long as possible.
You can access the new feature in your A+ content manager.
There you should proceed as follows:
Decide which product / content you want to test
Provide two versions of the A+ content
Make all necessary settings
Start the experiment
For detailed instructions, we recommend this article from Amazon.
Using PPC campaigns as well as keyword and bid adjustments mainly contribute to getting your ads played out. With A+ content, you can ensure that your products are then actually bought.
BidX can help you make the most of your PPC campaigns. Our algorithm continuously analyses the performance of your ads and adjusts bids and keywords accordingly.