Search term optimization using Amazon backend keywords
Amazon is competitive. Like starting-next-to-Usain-Bolt competitive. And with over 350 million items on sale, Amazon is also a search engine.
This means you have to optimize your product title and details to make the search results' first page.
And you have to be on the first page. Why? Because 70% of shoppers don't make it past the first page—It's where all the action is.
Keywords can be embedded in various positions in amazon's frontend. For example, in the title, in the bullet points, in the product description or within the A+ content. But what about the 'backend' keywords?
This post explains what backend keywords are, why you should use them, and the do's and don'ts when entering them.
What are backend keywords?
Backend keywords are 'hidden' keywords you enter in the 'backend' of your listings in Seller Central. They are the place for related keywords that you can't easily weave into your product's title and description.
Say you're selling a Gilet. It's a sleeveless top that keeps you warm in the cooler months. But different people call it different things. Some use the term Gilet, some call it a vest, and some insist it's called a body warmer.
In this situation, you can use the primary keyword — gilet — in your product title. Then add vest, body warmer, tunic, jerkin, and waistcoat into your backend keywords. Now, with more keywords covered, you increase your chances of showing up in the search results when a shopper uses one of these terms.


Adding a keyword in the backend doesn't guarantee you'll show up for that term. Amazon uses many factors when deciding its results.
You will only be displayed for an ad for a specific keyword if you are also organically indexed for that keyword. The backend helps you with this indexing.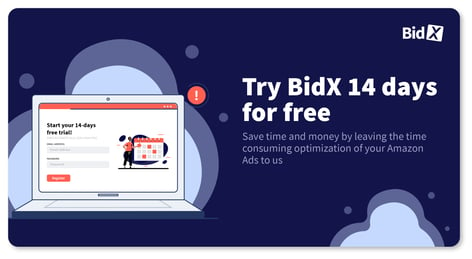 Why does Amazon allow you to enter backend keywords?
Amazon recognizes that shoppers use lots of different keywords to find the same item. So Amazon provides the backend keyword feature to allow sellers to enter a list of keywords related to their product.
When you add associated keywords in your backend list, you make room in your title to also add product features and benefits.
This is helpful, because when shoppers view the search results, they scan the result's images and titles first. If your title contains features and benefits relevant to the shopper, you have more chances of attracting a click-through.
Here's our gilet example illustrated. This seller packs their title full of additional features that could be attractive to shoppers; invisible zipper, lightweight, pockets, and a stand collar. The seller therefore completes the title with other keywords that could be relevant for the customers, instead of just using a long string of keyword variations for the word gilet.
You should also define factors like color, size and material in the backend, since otherwise you will be filtered out by the algorithm.
Overall it is important to find the right balance between a title that contains all the relevant keywords and a title that is appealing to your customers.
Where do I add backend keywords?
To enter backend keywords, choose one of your products in your Manage Inventory section of Seller Central.
Choose an item you want to add keywords for and select Edit. Next, in the Edit window, select the Keywords tab, which displays the keyword entry form (shown below).
You have two options to choose from 1. Search Terms and 2. Platinum Keywords. The Platinum Keywords section is only for the small number of sellers who have reached the dizzy heights of Platinum Seller Status.
Ignore this box and use the one labeled Search Terms; that's the box to enter in your backend keywords. Now let's look at a few rules and best practices.
The rules and best practices for entering backend keywords
There are a few rules and best practices that you need to know for entering backend keywords.
Rules
You've only got 249 bytes. Not characters.
You are limited to 249 bytes of data in your backend keywords. Not characters, bytes. Regular alpha-numeric characters, like A-Z and 0-9, take up one byte of information. But special characters can use more than one byte.
If you used an umlaut accent Ü, it would take up 2 bytes. Other special characters can take up even more. So even if your character count is less than 249, you may have exceeded the byte limit. Avoid this at all costs!


cApItAlIzAtIoN RuLeS
The letter case you use for your backend keywords doesn't matter. You can enter your keyword string in lower case letters, and Amazon will still match searches using Leading Capitals, even ALL CAPS.


Disallowed Keywords
Amazon doesn't let you add what they call 'temporary statements.' Temporary statements are phrases like 'on sale,' 'discounted,' and 'latest version.' Your sale may have ended, or a seller releases a newer version.
Similarly, Amazon won't permit subjective claims either. Keywords that claim your product is 'effective,' 'amazing,' and 'cheapest' are not allowed.
You also can't use ASINs, your brand name, or a competitor's brand name. Amazon wants to serve results that match the searcher's intent. So if you try to game the system using deceptive keywords, Amazon could penalize your listing.
Finally, Amazon doesn't permit the use of abusive or offensive terms—so keep it clean.


Punctuation and Grammar
Amazon has a few punctuation and grammar rules to help you make the most of your 249 bytes.
You shouldn't include any stop words. Stop words are connectors like 'an', 'for,' 'a', 'the,' 'is,' and 'on.' When processing a search phrase, Amazon strips out the stop words before matching results.
So if you add stop words in your list of backend keywords, you take up precious space with words that Amazon won't use.
Amazon also says you don't need to use punctuation characters. Full stops, commas, and semi-colons are not required to separate keywords.
Instead, Amazon asks that you just use a space between keywords. And the space between your keywords doesn't count towards your byte total.
There's no need to worry about singular and plural keyword versions—Amazon automatically recognizes either version. So it makes sense to use the singular as it's usually shorter, saving you a bit of space to add in more keywords.
The order you enter your backend keywords doesn't matter, as Amazon is sophisticated enough to identify when your product's words are the right match. Keywords which are placed in the front will not be treated with a higher importance.
To cover as many keywords as possible, you can use hyphens. This will be explained in more detail later.
Best Practices
Keyword Choice
You don't need to repeat any keywords you've used in your main product listing. The backend keywords feature is there for the associated terms that a shopper might use.
Here's an example of backend keywords provided by Amazon.
The keyword string contains a range of words a shopper might use to find a chopping board on Amazon.


Synonyms, alternative spellings, and misspellings
Amazon recommends using synonyms and alternative spellings for your products. So if you are selling a Chopping block, you should add the synonym Butchers block, for example.
If you are in the tech business, you may sell some kind of Adapter. But this word is often also spelled Adaptor. So if you decide to write Adapter in your title, you should add the other variant in your backend keyword string.
However, you don't need to include misspellings of keywords.


Abbreviations and alternate names
The Amazon algorithm doesn't automatically match abbreviations to the related complete word. For example, if you were selling Pyjamas, you would want to add the keyword PJs to your backend list.
Alternate names are self-explanatory. Like the Gilet and Vest example, we gave at the start of this article.


Keyword Repetition and Hyphens
You don't need to repeat any keywords on your backend keyword list. Here's an example for illustration.
The keywords highlighted above; block, bamboo, wood, and wooden will return this product in Amazon's results for the following searches:
Bamboo block
Wood block
Wooden block
Wooden bamboo block
Any other combination of these words
BUT: the product would not be displayed for bambooblock, for example.
To cover more variations of words you can also use the hyphen '-'. If you added the keyword anti-bacterial to your backend keywords. It would cover you for the following search combinations:
Anti-bacterial
Antibacterial
Anti
Bacterial
Anti bacterial
So you can get the best bang-for-your-buck if you have a hyphenated keyword.
How are backend keywords different from advertising keywords?
Backend keywords are important, but you shouldn't give any more focus than is necessary.
They are something you should review occasionally to make sure your keywords are appropriate for your product. But if you are spending money on Amazon advertising, your list of advertising keywords is much more critical.
You pay for every single click on your Amazon adverts. So if you aren't careful with your choice of advertising keywords, you'll risk irrelevant visitors and a bigger advertising bill.
If your backend keywords are poorly chosen, you'll just get some irrelevant free organic traffic.
Key Takeaways
The backend keyword feature is an excellent way to optimize your Amazon listing for SEO. You can add keywords that you can't fit naturally into your product listing but shoppers may use to find a product like yours.
There are a few rules and best practices, but you can improve your Amazon search term optimization once you understand the format and requirements.
We recommend checking out this post to find out the most relevant keywords for your Amazon advertising and back-end keyword list.